Role of diet and Ayurvedic therapeutics to control hair fall
Are you depressed from continuous hair fall?
Here you can get the systematic, A-Z self-explanatory hair fall solution for yourself.
Hair fall in young age becomes a common problem today for both men and women. Hair loss may occur throughout the body or some specific area. Baldness is a burning problem for men today. The question of manageability is completely depending upon the cause of hair fall. To stop hair fall the main cause should be identified first.
Alopecia areata is the medical term when your hair follicles are attacked by your own immune system. This causes hair fall. Appears like circular patches generally.
In Ayurveda baldness is named as khalitya and grey hair as palitya.
What is the normal hair growth rate?
The rate of growth of hair is about 15 cm or 6 inches in a year, though in most person, when the hair reaches a certain length, it ceases to grow at the root and is gradually pushed upwards till it falls out. It is then replaced by a new hair which develops from a fresh papilla. Papilla is the base of hair follicle.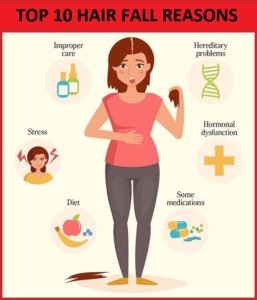 1. Deficiency of Protein (Women require 60 gm, men 80-90 gm, adolescent boy and girls 80-100 gm protein for luxuriant hair).
2. Deficiency of Inositol
3.  Deficiency of anyone of- iodine, copper, iron and zinc
4. Lack of B vitamins and folic acid
5. Lack of vitamin A (Also causes coarse and ugly hair)
6. Psychological factors like stress, worry, anxiety
7. Chronic diseases like- Anaemia, cold, flu, syphilis, tuberculosis, radiation therapy, chemo therapy
8. Conditions like psoriasis, dandruff and other fungal infections
9. Continuous application of harmful chemicals
10. Hereditary factors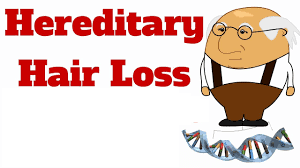 Diagnostic hair testing for deficiencies of minerals: A controversial science
Hair analysis is used by some practitioners to test for deficiencies of minerals in the body, and is even used by some companies to find out whether potential employees use illegal drugs. Strands of hair, cut into short segments, are washed and then subjected to f- tests to confirm the presence or absence, of specific substances.
Scientists doubt the value of hair analysis, claiming that different laboratories often produce conflicting results on identical samples; no uniform definitions of ranges of mineral content exist, and air pollution, shampoos and bleaches also affect the results.
Hair fall treatment ( Alopecia treatment ) for men and women
How to Prevent Hair Fall or Hair Loss ?
Now, the hair fall solution part is broadly categorized under five headings and some subheadings for easy understanding of the readers. The diagnosis part should be confirmed first then go through the treatment. But general diet guideline is must important one to stop the hair fall for any reason; as most cases found due to nutritional deficiency.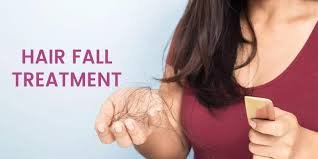 Nutritional diet is recommended for all type of the above-mentioned causes for hair fall. But specific treatment is also required for specific hair loss causes.
(A) Nutritional Diet to control hair fall ( Foods that prevent Hair Fall) :
Person with a tendency to hair fall should take a well balanced and correct diet made up of foods which in combination should supply all the essential nutrients.
It has been found that a diet which contain liberal quantities of
(i)          Seeds, nuts and grains
(ii)         Vegetables and
(iii)        Fruits
would provide adequate amounts of all the essential nutrients.
Each food group should roughly form the bulk of one of the three principal meals. These foods should, however be supplemented with certain special foods such as milk, vegetable oils, honey, wheat germ, yeast and liver.
Specific hair loss treatment for specific hair loss causes
Any treatment for hair loss due to dietary deficiencies should be followed by the below mentioned diets.
For Protein deficiency:
Milk, buttermilk, yogurt, soyabean, eggs, cheese, meat and fish etc.
For Inositol deficiency:
Eat foods rich in inositol such as yeast, liver and molasses. According to Adelle Davis, a world famous nutritionist, increasing the intake of protein particularly liver, wheat germ and yeast and supplementing the diet with a teaspoon of inositol daily usually stops a man's hair from falling .
He has found three or four persons whose hair became thick after these improvements were made.
For B vitamins deficiency:
Food enriched with vitamin B should be taken with the above mentioned nutritional diet.
Example:
Whole grains (brown rice, barley, millet)
Meat (red meat, poultry, fish)
Eggs and dairy products (milk, cheese)
Legumes (beans, lentils)
Seeds and nuts (sunflower seeds, almonds)
Dark, leafy vegetables (broccoli, spinach, kai lan)
For chronic diseases deficiency:
First, specific line of treatment should be done for specific disease. Along with the above mentioned nutritional diet should be taken to stop hair fall.
For Vitamin A deficiency:
Food enriched with vitamin A should be taken with the above mentioned nutritional diet.
Example: Beef liver, Cod liver oil, Sweet potato, Carrots, Black-eyed peas, Spinach, Broccoli, Sweet red pepper etc.
For Zinc and other mineral deficiency:
The above mentioned nutritional diet followed by addition of Shellfish, red meat and pumpkin seeds should be taken for zinc deficiency. For other mineral deficiency lettuce itself work wonderfully. Its an annual leaf vegetable, rich source of minerals, vitamin C, vitamin K and folate. For its high nutrition value its also called as dieter's dream.
For dandruff or other fungal infections:
Non-perfumed virgin coconut oil itself acts very effective in case of dandruff. Some other herbal and ayurvedic oils are present in market they are also effective, will be discussed under ayurvedic remedy column.
For depression:
Along with nutritional diet, anti depressant natural therapy should be done. It is good to avoid anti-depressant modern medications. Rather yoga and exercises works wonderfully in addition with meditation.
Sometimes it founds a relation with the deficiency of vitamin B6 and folic acid then the supplement foods should be taken.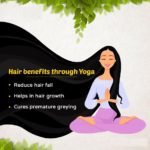 Yogic asanas like vakrasana, bhujangasana, shalavasana and pranayama like kapal bhati, anuloma-viloma and bhastrika are highly beneficial.
(C) Naturopathy and Home remedies for Hair Loss:
Vigorous rubbing of scalp (Most important tips):
Vigorous rubbing of scalp after washing the hair with cold water. The scalp would be rubbed vigorously till it starts to tingle with the heat. It will activate the sebaceous glands and energise the circulation of blood in the affected area, making the hair grow healthy and immediately stop hair fall.
Application of amla:
It is prepared by boiling dry pieces of amla in coconut oil. It a valuable hair tonic. Mixture of equal quantity of fresh amla juice and lime juice used as a sampoo stimulates hair growth and prevents hair loss.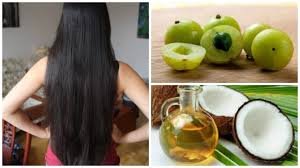 Scalp massage with coconut milk:
Coconut milk, prepared by grinding the coconut shaving and squeezing it well, to be applied over the scalp and massaging it into the hair roots. It will nourish and promote hair growth.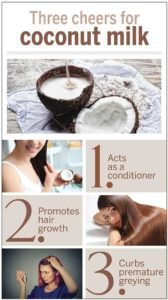 Boiled mustard oil with henna leaves:
About 250 gm of mustard oil should be boiled in tinned basin. A little quantity on henna leaves should be gradually put in this oil till about 60 gm of these leaves are thus burnt in the oil. It should be screened through cloth and stored well in a bottle. Regular massage on scalp with it nourishes the hair follicle.
Washing of hair for shine and silky texture:
Washing the hair with a paste of cooked black gram dal (Urad dal) and fenugreek (methi) produce natural shine and silky appearance and lengthens the hair.
Special treatment for Alopecia areata:
(i) A fine paste made from pigeon pea or red gram (arhar dal) can also be applied regularly with beneficial results on bald patches or alopecia.
(ii) The seeds of lime and black pepper seeds, ground to get fine paste, is one of the valuable remedies. It should be applied twice a day on the affected area for a few weeks.
(iii) Small variety of onion paste applied over patches is another excellent remedy for alopecia.
(iv)        Application of the paste of liquorice (mulethi), milk and pinch of saffron over effected area stops hair fall in case of alopecia.
(D) Important ayurvedic medicine for hair treatment:
Important hair oils are:
Neeli Bhringamalaka Tailam
Bhringaraja Tailam
Brahmi amla kesha tailam
Application of any one with washing of hair with sikakai with no soap use stops greying of hair and hair fall within 2-3 months.
Shad bindu tilam is used for inhalation (Nasya) one daily fore 1-2months.
Triphala churna taken 5-10gm At bedtime with milk or water for a long time can prove very effective in curing greying and falling of hair.
Amrita, amla and gokshura taken in equal part and mixed with honey should be taken in one teaspoonful doses thrice a day.
Swarnamakshika bhasma (250 mg dose) may be added to the combination mentioned under point number 4 for early results.
(E) Other alternate therapy:
Hair transplant:
The hereditary cause of hair fall is an uncommon condition generally not responsive by all above treatments, for this case hair transplant is the latest therapy. These transplanted hairs are resistant to the hormone that causes hair loss — dihydrotestosterone (DHT) and are considered permanent.
Though it has many side effects like:
Hair transplant side effects
infections.
crust or pus drainage around the surgical sites.
scalp pain, itching, and swelling.
inflammation of hair follicles (folliculitis)
bleeding.
losing sensation around the surgical sites.
Very soon we (HIMAAYUSH) are going to launch a range of products for almost every type of hair problem. For getting updates daily from the lap of mother nature stay connected with us. Thank you