Today people of India as well as people of 213 countries and territories around the world are facing a tremendous problem because of the outbreak of Covid-19. Since it started from Wuhan, China it has turned into a global pandemic.
Many families have lost their beloved ones due to Covid-19. The most heartbreaking thing is they cannot see their beloved ones after dying due to Corona virus and bid him/her a last good bye.
After the corona virus outbreak, the progress that mankind and the world economy was seeing, somewhere stopped and has not recovered from the fall down as of now. As the World Health Organization (W.H.O) declared Corona virus as a pandemic in mid-march 2020, there is still no ultimate solution to overcome this situation.
In this blog, we want to draw your attention to how you can protect yourself as well as your family members from corona virus by staying at home.
If you have come in contact of a Covid-19 positive person then the Ministry of Health and Family Welfare, Government of India, recommends self-quarantine and unfortunately if you are infected with Covid-19 but are mild/pre-symptomatic/asymptomatic, then you may be suggested self-isolation at home by your doctor.
What is Covid-19? Where does it is come from? What is the origin of this virus?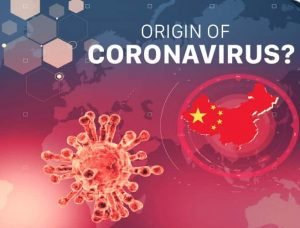 So, let us explain first corona virus (Covid-19) are a group of viruses. It is not just a single virus. It affects like any other common virus that causes nose infection, upper throat infection mainly Middle East Respiratory Syndrome (MERS-Cov) and caused a Severe Acute Respiratory Syndrome (SARS-Cov).
In December 2019 the outbreak happened in China first, the World Health Organization(W.H.O) identifies that this is SARS-Cov-2 and it is a new type of Corona Virus. In very little time it spread all over the world.
Referred Source:
What are the symptoms of Covid-19?
 Firstly, it begins with a common cold, hence it is difficult for a doctor to identify that if the patient is affected by Corona virus or other normal influenza virus.
Most of us initially do not take any kind of precaution as we all think that it may be a common cold but after 4-5 days it starts showing symptoms and then it may be very late to control the disease.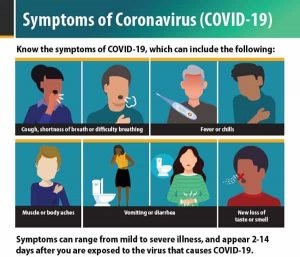 Main symptoms of corona virus:
All problems due to Covid-19 mostly affect the respiratory organs, like:
Fever
Nasal congestion
Runny nose
Sneezing
Shortness of breath
Breathing difficulties
Accompanied with high fever and cough
Difficulty of swallowing
Sore throat
Diarrhea
Dry cough
Nausea
Chills and sometimes shaking also
Losing of smell and test
Chest pain
Kidney failure
Pneumonia
Heart failure
Most affected Individuals in Covid-19 ?
Special care should be taken for people who have chronic diseases(comorbidity) like:
Asthma
Chronic bronchitis
Chronic hepatitis
High diabetes (more that 350mg/dL)
Cancer
Kidney disease
Weak heart with pacemaker
Blood disorder like sickle cell anemia or leukemia
Death rate of the people who have been infected by Covid-19 and also are comorbid is quite high compared to people without comorbidities.
People above the age of 65 and below the age of 10 are also in the high-risk category because in both these age groups immunity power is much lower than normal.
Difference Between Common Cold and Covid-19
Sysmptoms

Common cold

Covid-19

Fever

Sometimes(<38.5c)

Yes(maybe high sometimes)

Cough

Sometimes

Yes, Mainly Dry Cough

Runny nose

Yes

Sometimes

Headache

Yes

Yes

Sneezing

Yes

Sometimes

Sore throat

 

Yes

Yes

Diarrhea

 

No

Yes

Shortness of breathing

 

Sometimes(extreme cough)

Yes

Breathing difficulties

No

Yes, in moderate TO SEVERE CASES

Fatigue

Sometimes

Yes

Chest pain

No

Yes

Heart disease

No

Yes
How does Covid-19 spread ?
SARS-Cov-2  (Covid-19) Mainly spreads from person to person. This is highly contagious. This virus thrives on any kind of surface like table tops, door knobs, lift buttons, stairs railing, taps, handles.
The main problem is when someone is taking with another person or when someone comes in close contact with someone else, one can be infected by exhales, cough or sneezes.
If one touches their eye, mouth or nose after touching any infected surface then also they may be infected.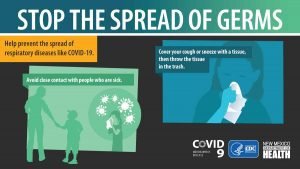 Referred Sources:
What is incubation period ?
Incubation period of Covid-19 ?
The pandemic has started 4-5 months ago. So, it is too early to identify the virus incubation period. But scientists are regularly observing the patients' conditions and they have given a tentative incubation period of 3 -14 days.
Average incubation period seems to be five days. It is challenging to identify if a patient is Corona positive or Corona negative from symptoms alone. So, Governments of most countries have tried to test the maximum number of people and identify who are Covid-19 affected and separate them from others as the symptoms occur after 3 days – 4 days. So that they cannot infect others.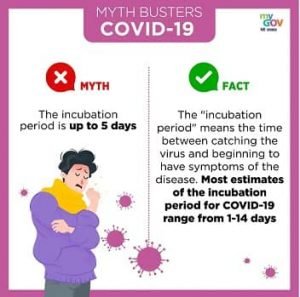 Referred Sources:
1. https://www.webmd.com/lung/coronavirus-incubation-period
 2. https://www.cdc.gov/coronavirus/2019-ncov/hcp/clinical-guidance-management-patients.html
What kind of precautions should we take in corona virus ( Covid-19) pandemic situation?
The minimum precautions that we can take is known to us very well. As news channels and your respective central government and state government are spreading awareness.
Wash hands often with handwash (Lifebuoy, Savlon, Dettol, Godrej Protekt etc) or any kind of soap for at least 20 seconds.
Clean Your hands with sanitizer which contains minimum 70% Isopropyl alcohol at before every meal/ touching your face/ mouth etc.
Don't touch your face unnecessarily. If anyone touches on any surface and if Corona virus is present on that surface then it may come on your hands and then if you touch your eyes or nose or mouth then the virus may infect you.
Cover nose and mouth in public. Wear a cloth covering face mask (Triple layer surgical mask recommended by doctors) to protect yourself and others.

Precautions against covid-19 pandemic situation
This virus spreads from human to human, hence human beings are the carriers, which is the most dangerous thing about the virus.
The Government as well as doctors are asking us to keep 6 feet distance. This is called "Social distancing".
This is the only way to fight against this virus because in this case we are the carrier of this disease.
Governments of most countries decided the way to contain the virus is "Lockdown" .
In India Prime Minister Narendra Modi had announced a nationwide lockdown on 24th March 2020 and it continued till 18 May 2020. It was done in 4 phases.
| | | | |
| --- | --- | --- | --- |
| phase | Start Date | End Date | Duration |
| 1 | 25 March 2020 | 14 April 2020 | 21 Days |
| 2 | 15 April 2020 | 3 May 2020 | 19 Days |
| 3 | 4 May 2020 | 17 May 2020 | 14 Days |
| 4 | 18 May 2020 | 31 May 2020 | 14 Days |
Many state Governments have announced lockdown depending on the infection rate in specific areas and named them as "Containment zone". All kind of activities are still restricted in those zones. A medical in charge is appointed in those areas to monitor the people of containment zone.
Referred Sources:
1. https://www.mohfw.gov.in/pdf/FAQ.pdf
2. https://www.mohfw.gov.in/pdf/SocialDistancingAdvisorybyMOHFW.pdf
3. https://www.webmd.com/lung/coronavirus
4. https://www.timesnownews.com/india/article/india-coronavirus-lockdown-extended-to-phase-4-here-is-looking-into-the-dates-of-all-the-lockdowns-uptil-now/585837
5. https://www.orfonline.org/research/50-days-of-lockdown-measuring-indias-success-in-arresting-covid-19-66336/
What is lockdown? How it will help to prevent to corona virus ( Covid -19) spread?
Lockdown is a stage of a particular geographic area when movement of people within that area are completely restricted except for emergency services and essential services.
Bans on any kind of events and gatherings.
Closure of commercial and private establishments
Closure all types of educational institutions during lockdown period
Suspension of all kinds of public and private transport.
Closure of all services and all shops except health care and essential commodities.
Ban on all kind of social, political, religious gatherings
All these instructions are given by the Government of India and people are advised to stay at home during lockdown period and this is called "Quarantine".
Referred Source:
1. https://www.businessinsider.in/india/news/what-is-lockdown-and-what-to-expect-from-the-lockdown/articleshow/74759615.cms
Self Isolation Rules in India :-
If the patient is clinically assigned as a very mild/pre symptomatic or asymptomatic case, then they should be in touch with a medical officer by whom he/she will be monitored during the self-isolation period.
In such cases, medical facilities like Oxygen cylinder, saline water must be present at home and the whole family should be quarantined at home in separate rooms.
A care giver should be always be present 24*7. The care giver should report regularly to the medical in charge who permitted him/her for self-isolation.
The care giver and family members may take hydroxychloroquine prophylaxis as per protocol and prescribed by the treating medical officer.
Also ensure that update give regular basis of the patient's condition to the District Surveillance Officer and further follow up by the surveillance team.
The patient should fill up the form of MoHWF that he/she has been undertaking home isolation and follow all these guidelines that given by MoHFW.
Download Arogya Setu App on mobile and take self-assessment every day, so that government can monitor your health.
Referred Sources:
1. https://www.mohfw.gov.in/pdf/RevisedHomeIsolationGuidelines.pdf
3. https://timesofindia.indiatimes.com/india/who-is-eligible-for-home-isolation-health-ministry-issues-additional-guidelines/articleshow/75420816.cms
Some special instructions for patient who are in home isolation
Patient should always use triple layer surgical mask.
Discard the mask after 8 hours.
Mask should be discarded only after disinfecting it with 1% Sodium Hypochlorite solution.
Patient should take lots of fluids and fruit juice and always stay hydrated.
Use hand wash or soap and clean hands for at least 40 seconds with water.
Don't share personal items with other people.
Clean room, bedsheet and toilet that the patient uses every day by some antibacterial cleaning agent.
Who should opt for Home quarantine
Home quarantine rules in India
Need to stay away from elderly people, pregnant women, children and people with co-morbidities within the household.
Restrict his/her movement within the house.
Under no circumstances attend any social/religious gathering e.g. weddings, funerals, etc.
Not sharing any kind of personal things with anyone.
Always use triple layer surgical mask and before disposal clean it with 1% Sodium Hypochlorite solution.
Don't share household items like glass, dish, remotes etc.
Use disposable gloves when cleaning the surfaces or handling soiled linen.
Lastly if any kind of pre/mild symptoms like cough/ fever/difficulties in breathing appears then he/she should immediately contact with nearest health center or call 011-23978046 .
When is medical attention needed ?
In self-isolation period or home quarantine period every person should monitor their own health condition. If they think that they have the following problems then they should immediately contact with respective hospital or medical officers.
Difficulty in breathing,
Dip in oxygen saturation (SpO2 < 95%)
Persistent pain/pressure in the chest,
Mental confusion or inability to arouse,
Slurred speech/seizures
Weakness or numbness in any limb or face
Developing bluish discolorations of lips/face
How long should one be in self-isolation period ?
Patient under home isolation will stand discharged after 10 days of symptom onset and no fever for 3 days. Thereafter, the patient will be advised to isolate at home and self-monitor their health for further 7 days. There is no need for testing after the home isolation period is over.
How long should one be in home quarantine period ?
Some additional information
Still there are no vaccines introduced for Covid-19 in India and there is no such specific guidelines for how to treat Corona virus positive patients.
But many of researches, scientists and big pharmaceutical companies are working day and night in laboratories.
We all know development of vaccines takes time. As the fastest vaccine introduced for Mumps virus took almost 15 years. COVID-19 started at the end of December 2019. So, it is uncertain when a vaccine of Covid-19 will be introduced.
Though there is hope by the Oxford scientists in collaboration with Astrazeneca(British-Swedish multinational pharmaceutical and biopharmaceutical company), they have created a vaccine against COVID-19 and is in trial stages and it shows "good result" so far. The vaccine named AZD1222.
Astrazeneca has licensed the manufacturing to Serum Institute of India(SII), that is world's largest vaccine manufacturer by number of doses produced and sold, to produce the potential vaccine in India.
Larger scale of phase-3 human trails is already started and we all hope that it successfully works against COVID-19 and produces antibody against COVID-19.
India is also trying to introduce vaccine.
The vaccine named as Covaxin. This is developed in partnership with the Indian Council of Medical Research (ICMR) and National Institute of Virology. The vaccine manufactured by Bharat Biotech (India-based biotechnology company) facility at Genome valley, Hyderabad.
Drug Controller General of India (DCGI) gives approval for human trials and India already started human trail in phase-1.
First human trial organized in 12 hospitals across the country. There are almost 375 volunteers and age of them is between 18 to 55 and with no morbidity condition participants in the trail. There are no side effects observed so far.
We all pray to god that it works against COVID-19 and we all are able to lead the previous mask free life with not maintaining social distancing and stay together as earlier.
We all hope that the sun will shine on us again soon.
Referred Sources:
1. https://indianexpress.com/article/explained/explained-what-is-covaxin-indias-covid-19-vaccine-candidate-how-long-before-approval-6483553/