Arthritis is a term used to describe the "inflammation between two joint bones". The word arthritis comes from two Greek words. Arthon meaning joints and itis meaning inflammation. These two Greek words describe the whole meaning of arthritis. It is a very common disease and usually occurs in older age-group. Naturally degenerative joint bone causes a chronic pain that is the main symptom of this disease. In this article read about treatment of Arthritis with home remedies yoga and daily exercises . These beneficial treatments will help to cure arthritis or any type of chronic joint pain.
1. Consuming raw vegetable juice (Juice Therapy)
It is advisable to put an arthritic patient in a strict raw vegetables juice therapy. The juice should be extracted from any green leafy vegetables. That can be mixed with carrot, celery and red beet juice that is only specific for arthritis. Fresh pineapple juice is also a valuable remedy for arthritis as it has an enzyme called bromelain that reduce swelling and inflammation for specially Osteoarthritis and Rheumatoid arthritis . The green vegetables juice has rich amount of alkaline that dissolves in joints muscles and other tissues helps them to prevent decomposition.
2. Eat fruits and green vegetables
An arthritis patient should go for a long diet which consists of fruits and green vegetables for protein and carbohydrates for energy gain of each cell and alkaline for muscle tissues. There are many vegetables that you can eat in the form of salad or at least two cooked vegetables. Fruits you can eat:
Orange
Grape
Lime
Berries
Olive
All these fruits are rich of vitamin C that is essential for joint bones and tissues.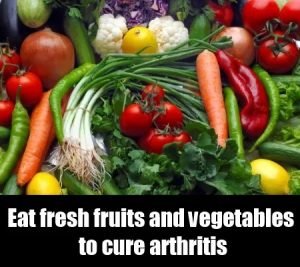 There many vegetables such as Cabbages , Cucumber , Celery , Carrot , Endive, Lettuce, Onion, Tomatoes, Watercress that you can eat as a salad .
Other vegetables like Asparagus, Cauliflower, Carrot, Cabbages, Celery, Brinjal, Onions, Mushrooms, Beans, Spinach, Tomatoes, Squash, Turnips . You may  include these as  cooked vegetables as well.
3. Massage with warm coconut oil or mustard oil
Warm coconut oil or mustard oil mixed with a little amount of camphor should be massaged in the joints where stiffness and inflammation occurred. It helps to increase the blood circulation between the joints and reduces inflammation. A gentle warmth is produced while massaging with camphorated oil as it is a rubefacient used from ancient times. This is one of the best treatment of Arthritis .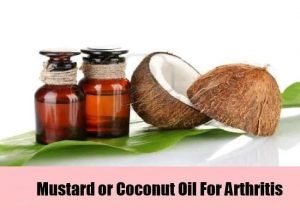 4. Soaked Black Gingelly seed is used treatment of Arthritis
Soak black gingelly seeds soaked overnight in a glass of water and drink the water early in the morning in empty stomach. It is very effective in preventing frequent joint pain. Drinking water kept in a copper pot whole night will give a better result. This water has traces of copper that helps to increase the strength of muscles. For that same reason some people wear a copper ring or bracelet.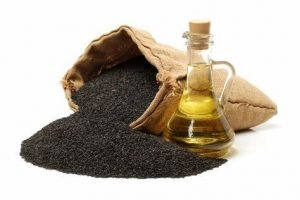 5. Having Lime for treatment of Arthritis
Lime which is used as a home remedy for arthritis for a very long time. The citric acid found in lime which is solvent of uric acid. As uric acid is a primary cause of arthritis. Green-gram soup mixed with crushed garlic cloves is also a good home remedy for treatment of Arthritis. Another is a teaspoonful of fenugreek seeds powder mixed with warm water, drink it daily, it also cures joint stiffness.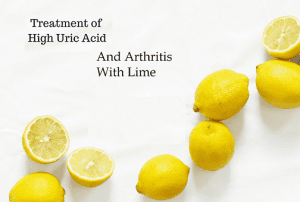 6. Try to kept your painful joints warm
The whole body should be kept warm all times, it is a good remedy for rheumatoid arthritis. The affected joint should not be bandaged tightly as this limits the blood circulation and movement of joints. There should be plenty of indirect ventilation and at least two windows in the bedroom as the natural air is also a good remedy of arthritis.
7. Do Some Light Exercise
Light exercise such as walking, hiking and swimming are beneficial to reduce muscle stiffness. Maintaining body weight is also an important factor in removing joint pain as it gives an extra pressure to joint bones. Obesity gives extra stress on joints and affects the smooth movement of joint bones, ligaments and muscles.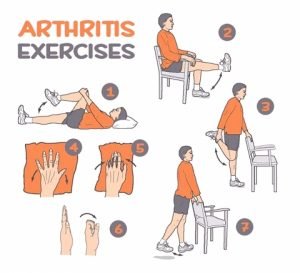 8. Sea bathing or warm salt water bath
Sea bathing is considered as a beneficial treatment of arthritis as it contains natural iodine. The iodine relieves the arthritis pain. As researchers have said that iodine regulates the acid-alkaline balance in blood and tissues. The alkaline helps to repair and regenerate worn out tissues. It also regulates thyroid gland's secretion. As hormones uses iodine to nullify germ in blood cells and create a self-cleansing of internal toxaemia to prevent viral attack.
If sea bathing is not possible then take bath in warm water mixed with two cups of salt. The minerals of sea water specially iodine will be available in this warm water mixture.
The yogic asanas are also a very helpful home remedy for arthritis. Arthritis patients should practice these asanas regularly. These are:
Trikonasana
Bhujangasana
Shalabhasana
Naukasana
Vaknasana
Shavasana.
These yogic asanas give a patient full body stretching and gives extra power to joint muscles. Yogic kriyas like jalneti and kapalbhati and pranayamas such as anuloma viloma, ujjai and bhramari are also beneficial for arthritis.
Natural immersion bath, hot bag impressions, ultrasonic diathermy, knee pack applied for an hour at every night, steam bath, massage with some pain reliever ointment or gel every night before going to sleep or in the morning is a beneficial treatment for arthritis.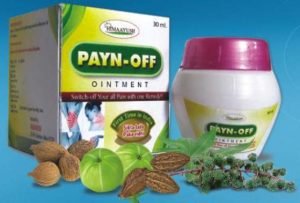 Arthritis is a very common disease now a days. After a certain age, almost everyone has a chronic pain in some joints and this is quite normal as we give ridiculous stress to our body between the age of 30-50 years. So, we all face problems of joint pain which starts after the age of 65. So, if we take special care of our body in the daily working life then at old age we would not have to face this kind of joint pain. Exercising or doing asanas or bathing with warm water will help you a lot and this will give you result after the age of 65 or 70. So these small steps makes you happy for the entire life, should you do this or not, choice is yours.